---
N. 24 - Dicembre 2009 (LV)
Inchtuthil
The meaning of the Scotland's missing capital (part 1)
di Antonio Montesanti
1.0 Introduction
The Roman fort, and particularly Inchtuthil, is a masterpiece of regularity and ordered planning. Its structure is an enveloped enclosure, with an apparently simple base which is at the same time extremely complex. Its period of use is thought to have been since the first years of Roman expansion until the end of the Empire. The forts' features correspond to fixed characteristics between the magical and the practical. It also represents the ideal image of efficient and somewhat grandiose protection, giving the perception for those inside the fort a sense of security as well as maintaining the ideals of a Roman city.
| | |
| --- | --- |
| Alternative Names | Inchtuthil Plateau |
| Site type | FORT |
| Canmore ID | 28598 |
| Site Number | NO13NW 6 |
| NGR | NO 1152 3930 |
| Council | PERTH AND KINROSS |
| Parish | CAPUTH |
| Former Region | TAYSIDE |
| Former District | PERTH AND KINROSS |
| Former County | PERTHSHIRE |
Tab 1 – Inchtuthil. Positioning
2.0 Background
2.1 In AD 83 the Romans are believed to have built the legionary camp of Pinnata Castra (Ptol., Geog.: ii, 3) or Victoriae (Rav. Cosm.: 108, 11) in the location that we refer to as Inchtuthil. This was during the Roman expansionist phase of northern Scotland and it was abandoned at around 87 AD (Pitts & St. Joseph 1985: 31, 201).
2.2 The first excavation undertaken of the area was in 1902 (Abercromby, Ross, & Anderson, 1902: 182-242). This was followed by a massive excavation of the enclosure fourteen years later (1952-65) which revealed the plan of the fortress (Pitts & St. Joseph 1985: 31; 49-56).
<![if !vml]>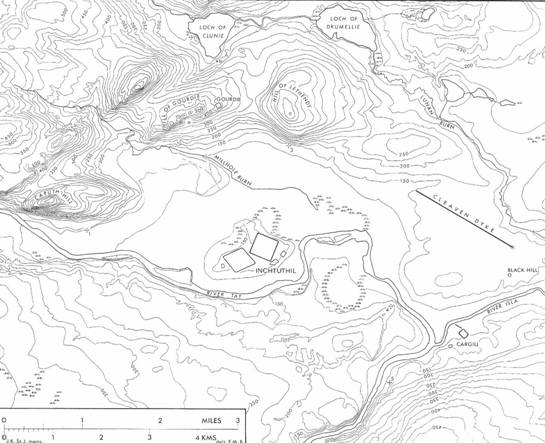 <![endif]>
Fig. 1 – Inchtuthil fort. Positioning (after Pitts & St. Joseph 1985: Fig. 1)
The fortress site lies on a fluvial-glacial bank south of the Highlands and is cropped by a meander of the River Tay. The location was of major strategic importance to the Romans is it served as a link between two territorial zones that were pivotal points in maintaining control of the High- and Lowlands of what is now Scotland (Fig. 1, Tab 1) (Pitts & St. Joseph 1985: 32).
3.0 Description (Fig. 2, Tab 2)
<![if !vml]>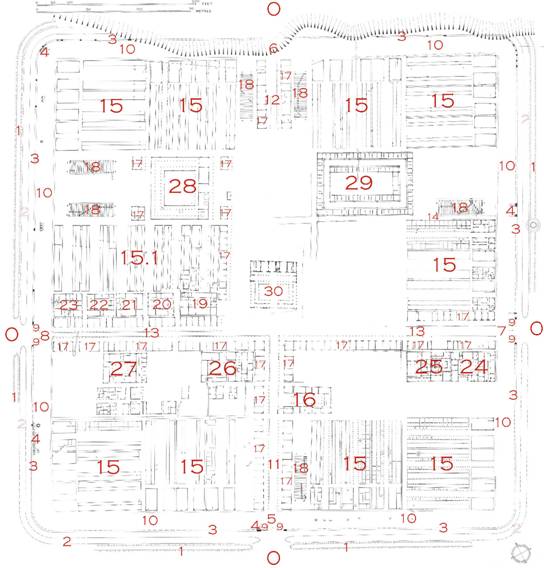 <![endif]>
Fig. 2 – Inchtuthil fort. Description
0

External access point(s)

INGRESSUM

1

Ditch

FOSSUM

Difensive system

2

Primary Rampart (demolished)

AGGER

3

Stone Wall

VALLUM

4

Counterscarp bank

AGGER

5

SW Gate (Porta praetoria)

PORTA PRAETORIA

Internal access and connection system

6

NE Gate (Porta decumana)

PORTA DECUMANA

7

NW Gate (porta principalis dextera)

PORTA PRINCIPALIS DEXTERA

8

SE Gate (Porta principalis sinistra)

PORTA PRINCIPALIS SINISTRA

9

Tower

TURRIS

10

Sagularis Road or Intervallum

VIA SAGULARIS SIVE INTERVALLUM

11

Praetoria Road

VIA PRAETORIA

12

Decumana Road

VIA DECUMANA

13

Principalis Road

VIA PRINCIPALIS

14

Quintana Road

VIA QUINTANA

15

Cohorts Barracks

COHORTIS CONTUBERNIA

Soldiers

15.1

First Cohorts Barracks

PRIMIS COHORTIS CONTUBERNIA

16

'Basilica Exercitationis' (Workshop?)

FABRICA?

Supplies

17

Stores

TABERNAE

18

Granaries

HORREA

19

Senior Centurion house (First line)

DOMUS CENTURIONIS PRIMUS PILUS

Commanders accommodations

20

Centurion house (Prince)

DOMUS CENTURIONIS PRINCEPS

21

Centurion house (Lancer)

DOMUS CENTURIONIS HASTATUS

21

Centurion house (Rear Prince)

DOMUS CENTURIONIS PRINCEPS POSTERIOR

23

Centurion house (Rear Lancer)

DOMUS CENTURIONIS HASTATUS POSTERIOR

24

Tribun's House I

DOMUS TRIBUNI

25

Tribun's House II

DOMUS TRIBUNI

26

Tribun's House III

DOMUS TRIBUNI

27

Tribun's House IV

DOMUS TRIBUNI

28

Workshop

FABRICA

29

Hospital

VALETUDINARIUM

30

Headquarter

PRINCIPIA SIVE AQUILA

-

Praying place

Auguratorium

-

Learning point

Schola

-

Reunion centre

Basilica

-

Temple/

Aedes

-

Camp/fort

Castrum

-

Capitol

Capitolium

-

Commander's house

Praetorium

-

Market

Forum

-

Front field

Pars antica

-

Rear field

Pars postica

-

Shrine

Ara auguralis
Tab 2 – Inchtuthil. Description key and translated features
4.0 Comprehension
4.1 Justified Accesses Map (Gamma analysis Map) (Fig. 3, Tab 3)
(Hillier & Hanson 1984: 82-175; Grahame 1999: 55-58; Foster 1989: 44-49)
<![if !vml]>

<![endif]>
Fig. 3 – The fort 'system'. Justified Accesses Map (Gamma Map)
4.2 The presence of a stone-wall surrounding the fort postulate the project to transform the fortress entirely in stone as Nijmegen and Chester. Its unfinished state is illustrated by the presence of such a small headquarter, the lack of a pair of tribunes' houses, possibly two granaries and some private accommodation.
Missing also is the parade ground, the market and, above all, a commander's house, although space was reserved beside or behind the headquarter. However, the hypothetical envelopment of the structure, observing the two central clear places and comparing that with London, could comprise two markets (Philp 1977: 37; Pitts & St. Joseph 1985: 86).
4.3 The plateau, on which lays the most northerly legionary fortress of the Roman Empire circumscribes other elements - The 'Redoubt', the 'Officers' 'temporary' compounds and a stone bath-house on South-East side, as at Cramond (Masser 2006: 4, illus 1).
On the West side this has shown an attached rhomboidal empty fortified pitch. The maximized occupation of the surface demonstrates the necessity to occupy and fortify the entire surface of the plateau. External pitches are also present at Lyne (Christison 1901: 166 Fig.7; Steer & Feachem 1962: 211 Fig.2) (Fig. 4), at Hayton (Johnson et al. 1978: 76, fig. 13) (Fig. 5) and perhaps recalling an evident intention to built a twin fort-camp connected with the first one as at Soria (Gillani 2007: fig. 3) (Fig. 6) and in the similar Mumrills (Steer 1963: 86, fig. 1; Keppie 1997, 408) (Fig. 7).
5.0 The 'defensive system'
5.1.1 The positioning of the fort was on three points: The closeness to the river slope, the topographical strategic point of access and ease of reaching the frontier line by military-way.
The diagonal defensive SW-NE line so installed, facing the Highland front by a system of forts following the same mountain line, constituted a northern barrier imitating the formidable limes Rhine-Danube, after a different strategic conception based on a grid of exit-mouth valleys and a fluvial system.
Differently to that of Europe, in Britain the frontier was designed as a series of fort-lines. The southerner line was formed by Lyne, Inverquharity and Loudoun Hill and another one was based on the line Carleon-Chester-York (Christison 1901: 158 Fig.2; Steer & Feachem 1962: 209 Fig.1; Pitts & St. Joseph 1985: 44).
5.1.2 The River Tay afforded three main elements for a legionary camp. Water-supply, transportation and a dominant plateau on either side of the slope that provided a natural defensive position (Pitts & St. Joseph 1985: 43,47).
The defensive project was constituted by a multi-camps valleys control line, the massive ditch of Cleaven Dyke situated East of the fort, a timber breastwork on the West side of the plateau and the classical conjunction ditch and wall made up of stone.
The strategic position of Inchtuthil seem to be more familiar to those of continental Europe as Nijmegen and Mainz for the elevating place and similar to Regensburg (Konrad 2006: 39) (Fig. 8), Caraş-Severin (Benea & Bona 1994) (Fig. 9) and Soria for the river proximity (Gillani 2007: fig. 3).
5.2 The Roman system situated circumvallating the Highlands was served by a main northwards road, whose existence has been recognised and detailed, starting from Camelon to Stirling and from Strathallan by way of Ardoch and Strageath to Bertha (Pitts & St. Joseph 1985: 44).
5.3.1 Inchtuthil is the first Roman military establishment in Britain to have defences made up of stone, derived from the northern sandstone quarry-site of Gourdie Hill (William Smith 1875: 31; Collingwood Bruce 1895: 17).
Those of Carleon, York and Chester were built in the second Century AD. The use of stone, in Continental Europe, shows the intention of a permanent garrison or a long-term camp, as was the case at Windisch and Petronell (Pitts & St. Joseph 1985: 62).
The stone wall was not afforded of towers, even if those which flanked the main doors and a series of regular pits identified by posts, revealed the presence as at Pen Llystyn (Hogg 1969: figs. 5, 18, 20, 22), Künzig (Schörnberger 1978: Abb. 6, Beil. 5) and Regensburg, where they were transformed in stone (Konrad 2006: 40, Abb. 6; Pitts & St. Joseph 1985: 62) (Fig. 10).
The fortress had four considerably larger recessed gates as at Lincoln but these were much smaller. The best comparisons are represented by the 'L-shape' gate, which is typical of the big border forts as Xanten, Nijmegen and Windisch (Manning & Scott 1979: 19f, figs. 1, 8; Pitts & St. Joseph 1985: 71, 73, 76).
5.3.2The stone-wall included a schematic enclosure of doubled-row barracks organised in horizontal and vertical order and fronted by a veranda. The perfect subdivision was in ten barrack-quarters, one per cohorts, which is unusual and shows a concentrically idea of defense.
Eight barracks are present at Nijmegen and Tazoult, thirteen at Haltern and Valkenburg. Their dimensions are smaller of those of Bonn, Carleon, Windisch and Glouchester but larger than at Haltern, Exeter and Neuss. The uniformity of the barracks reflects an extreme sense of order and organisation (Pitts & St. Joseph 1985: 151-164).
5.4 Along the Via Principalis, behind the stores, on a stripe was the allocation of the tribunes' houses and centurions' quarters.
Their small size reflected the need to give more space to the common soldier. The tribunes' houses and centurions' quarters appear identical at Neuss, Nijmegen and Caerleon and for uniformity of plan, at Xanten but different at Petronell.
The relationship between the headquarters is present in the early fortress of Haltern and Nonstallon, while outside of Scotland at Masada, Peña Redonda e Castillejo, (Fellman 1958: 97; Cagnat 1913: 499-500; Pitts & St. Joseph 1985: 138-140; Richardson 2004: 438). An evidently limited number of houses within the fort demonstrates that not all the high officers were present, who could have remained at Wroxeter along (Boon 1972: 33-34).
6.0 Division of labour (Fabrica & basilica)
At least 160 shops were situated long the main streets, reflecting the situation of Roman-British towns, which is typical of several other main fortresses. The most indicative analogy could be considered with granaries and stores/shops in Roma and Ostia (Baatz 1964: 260-1; Pitts & St. Joseph 1985: 179-180).
The name of 'Basilica Exercitatoria' (Veg., Ars Mil.: ii, 23) comes by the superimposition of an identical shaped building found in Caerleon and such identified. However, it does not convince. Other similar cases, at Windish, Lambese, Xanten, Neuss (Fig. 11) and Petronell might suggest that it could be a senior officer's house, a place of religious importance, a theoretical learning point or a reunion centre.
The most reasonable interpretation is that of a specialist workshop combined with the storage capacity and distribution (Pitts & St. Joseph 1985: 119-127; Tac., Agr.: 22,2; Petrikovits 1975: 82, fig. 20; 23, fig. 6; Boon 1972: 15).
The workshop, with its open-plan ('Bazartyp') had at least four shops in relation to it. It has no size and composition comparison with other well-known types, though the position is common to the other forts as Tazoult and Windisch.
The nearest example is at Caerleon which together with Inchtuthil, represents an interesting regional (Britannia) and chronological (Claudian-Flavian) difference (Petrikovits 1975: 91-2; Pitts & St. Joseph 1985: 106; 113-4).
6.1 Before the legionaries abandoned southern Scotland, withdrawing south to Hadrian's Wall, they demolished what they had built at Inchtuthil. Over seven tons of handmade (nearly a million) iron nails of a considerable hardiness were buried on the site. This has been taken as an indication that they could not be transported during the withdrawal. This demonstrates the possibility that this must have been a desperate disappointment for the Romans to have left such a resource and probably for that reason were found only 9 iron tyres (Pitts & St. Joseph 1985: 110-113).
---
---